What distinguishes SDS drives from other types of drives:
A propeller which, unlike all other drives, is not completely submerged in water during operation (Surface piercing propeller) – the water line passes through the longitudinal axis and this means that during one revolution, some of the screw propeller blades are above water. This is achieved by moving away from the transom to where the screw propeller operates in a non-turbulent flow of water.
Although intuitively it seems that only a fully submerged propeller is the most efficient, the reality is different. It is the surface drive system that, thanks to the phenomenon similar to cavitation (ventilation), is the most efficient drive system, enabling high speeds to be achieved with economical fuel consumption. The correct configuration and selection of the right propeller is critical to the efficiency of the system.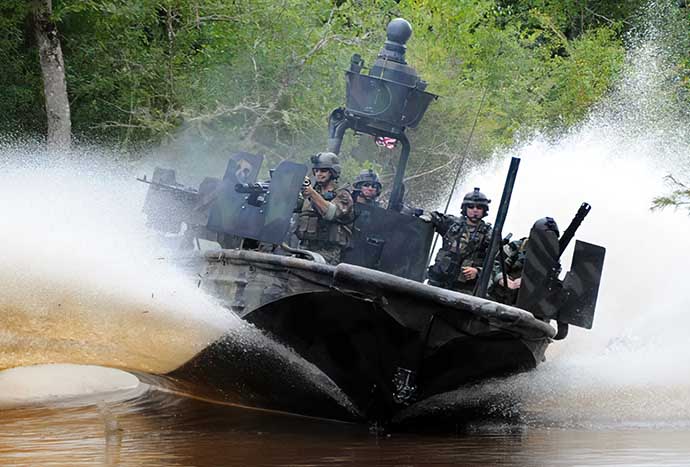 Features of our drive:
increase in drive system efficiency – speeds from 15 to 30 per cent
proportional decrease in fuel consumption
increase in manoeuvrability of the vessel
ability to operate in shallow water
guarantee of performance
minimisation of servicing costs (few moving parts and no hydraulic/electrical components in the water
low servicing requirements (possibility to carry out general servicing within 20 minutes – bearing replacement without taking the boat out of the water)
the highest reliability of all drive types, comparable only to conventional drives
TBO (time between overhauls) – the highest, as above, of all drives (we have installations in operation for 20 years)
24h service
Selecting the right propeller is a complex process, requiring appropriate engineering knowledge, technical and production facilities as well as access to experimental infrastructure.
Series of available SDS drives
(max moment in kgm):
We are the only manufacturer in the world to offer a complete propulsion package with a screw propeller of our own manufacture. For this reason, we are the only one to offer a performance guarantee. We always select the propulsion system on the basis of our own calculations based on information obtained from the customer.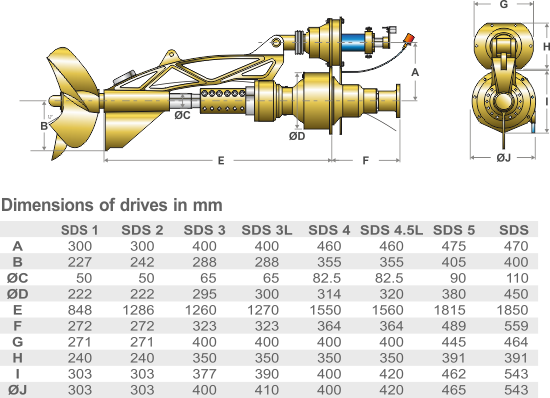 There are two types of surface drives:
with a fixed shaft, requiring rudder installation
trimmed, steered with a moving shaft

Trimmed (up/down) and steered (left/right) drive is required for modern solutions dedicated to high-speed motorboats operating above 25kn and requiring high manoeuvrability and the ability to operate in shallow waters (even with mooring on the beach).
By moving the propellers away from the transom, the rotation axis is shifted towards the stern, which significantly improves manoeuvrability compared to conventional drives. The possibility of trimming allows operation in reverse gear, in shallow waters and in rough seas. In addition, it fully exploits the advantages of surface drive by gradual lifting with increasing speed.
JP Marine
is a distributor of 
France Helices (FH)
. FH was established in 1977 and is a leading manufacturer of marine propulsion systems. FH is a pioneer in the development of surface drive systems for high-speed motorboats. Adequate scientific and experimental facilities as well as years of practice have enabled the development of a product superior in performance to any other propulsion system for vessels operating above 25kn.
The quality of these products has been recognised in approvals from all major classification societies such as ABS, BV and Lloyds. FH designs and manufactures complete propulsion systems that exceed the requirements for military, police, rescue or recreational vessels. FH is an international company and has a worldwide service network offering its services and training to all its customers.
Ask for details about our offer.
If you have any questions about our offer and our products, please write to us.
We will reply as soon as possible.